China, EU agree investment deal
Author: Source: Date:2021-09-15 16:46:43
China, EU agree investment deal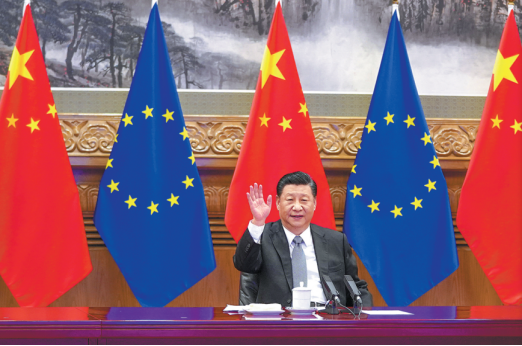 Pact to provide greater market access, brighter future for cooperation, Xi says
A landmark China-European Union investment deal agreed upon Wednesday night will provide greater market access for both sides and a brighter future for China-EU cooperation, President Xi Jinping said on Wednesday.
In a videoconference with German Chancellor Angela Merkel, French President Emmanuel Macron, European Council President Charles Michel and European Commission President Ursula von der Leyen, Xi and the European leaders jointly announced the conclusion of the negotiations after more than seven years of talks.
The balanced, high-quality and mutually beneficial agreement demonstrates China\'s resolve and confidence to promote high-level opening-up, Xi said.
It will promote recovery of the world economy in the post-pandemic era, facilitate global trade and the global economy, boost the international community\'s confidence toward economic globalization and free trade and make important contributions to building an open world economy, he added.
Xi noted that China is dedicated to building a new development paradigm, which will bring more market opportunities and greater space for cooperation for Europe and the whole world.
The conclusion of negotiations for the EU-China investment deal is a milestone for Europe-China relations, the leaders said. It will promote global economic recovery, they said, adding that it also proves that although Europe and China have disagreements on some issues, both sides have the will to enhance dialogue, deepen cooperation and achieve win-win cooperation on the basis of mutual respect.
The EU appreciated China\'s measures in dealing with climate change and fighting pandemics, and the two sides should enhance cooperation on such issues as disease control, climate change, biological diversity, sustainable development and reform of the World Trade Organization, they said. By AN BAIJIE in Beijing and CHEN WEIHUA in Brussels | CHINA DAILY |
News
HOt product
contact us
Email: [email protected]
Tel:0086-755-28902532
Address:Rm17E, ZhuJiang International Center, Long Gang District, Shenzhen City, China