A good & safety headlamp for underground mining
Author: Source: Date:2021-09-15 16:46:32
A good & safety headlamp for underground mining
Features of good & safety miner headlamp:
1.
Safety: All in one case with PC plastic material, make very good fixture of explosion-proof, protection in electrical short-circuit, automatic power off on the socket, 100,000 hours LED's lifetime.
2.
Durable & Reliability: The high strength case, bulletproof glass lens, optimized structure design and MCU control make the product more reliable.
3.
Rechargeable & Efficiency: with 5.2ah rechargeable battery to support more than 15 hours working time, and more than 7000 lux for lighting degree, battery usage lifetime 1000 cycles.
4.
Economical & environment: Li-ion battery is free of maintenance, and the material of li-ion is environmental, use 1 watt high power LED as main light, and 6 pieces 5 mm backup LED to save power.
5.
Digital: With digital device to show lamp number, time, and battery balance, show charging status, and will remind the user to recharge it when the power is not enough for one hour lighting.
6.
Portable: Just a head lamp, small in size, light in weight, simple charging, easy usage.
Structural parts of KL4.5LM safety miner headlamp:
①
Main light:1 watt high power LED120 lumens output.
② 6 pieces auxiliary LED light
④
Input socket for charging
⑥ Digital screen: Display product unit number, time, and battery balance (four squares are full, three squares means 3/4 capacity, two means 1/2 capacity, one means 1/4).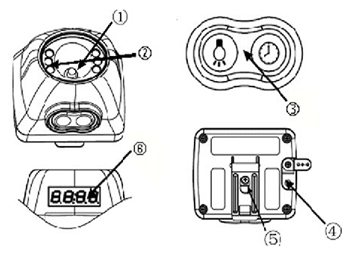 If any interested in or need of miner lamp, welcome to contact me([email protected]) or visit our website: www.gfminerslamp.com

Case
HOt product
contact us
Email: [email protected]
Tel:0086-755-28902532
Address:Rm17E, ZhuJiang International Center, Long Gang District, Shenzhen City, China